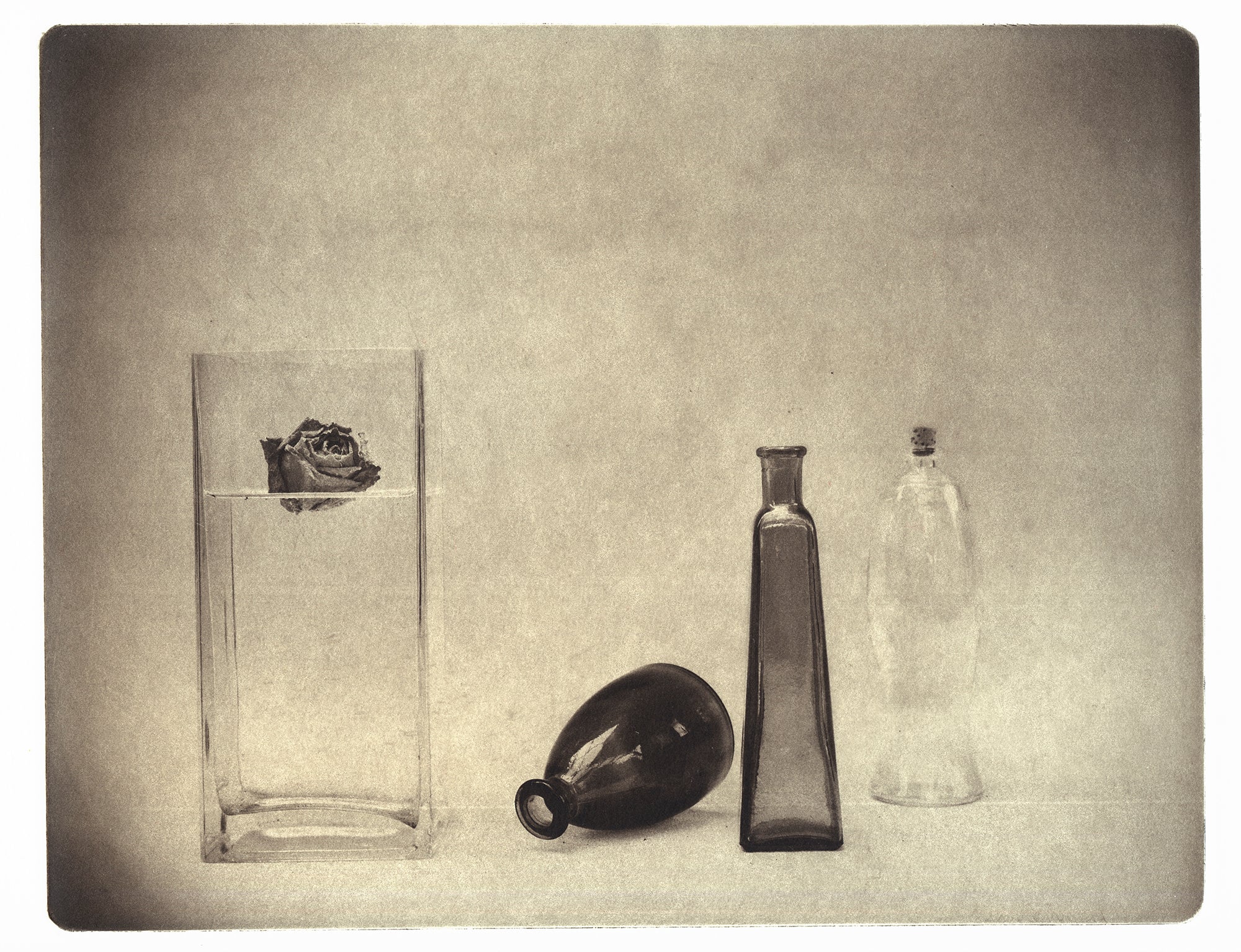 Vessels - photogravure print - The Weekly Edition
Description

Provenance

Info
I found myself wanting to make photographs, whenever I have a strong feeling about working I always take the call.  These vessels are some that my wife gave me one year for an occasion, they have been on my windowsill for a few years. This day I brought a few down to the studio and began making negatives, it was a good day and I selected this negative for printing in photogravure.

This hand-pulled photogravure print is made with Charbonnel carbon black, raw sepia, and warm sepia inks with a dash of Charbonnel sanguine ink on Hahnemühle copperplate paper. I printed an edition of 8 numbered prints and  3 A/P prints. 
Hand-pulled print by Ray Bidegain
Limited edition of 8
8 x 10 inches on an 15.5 x 20 sheet.
Signed numbered and dated by the artist on the lower front. 
Photogravure printed on July 3rd 2022, from a 4x5 negative made in on June 30th 2022 by Ray Bidegain.
All Cascabel prints are hand-pulled by Ray Bidegain and are signed and numbered on the lower front. Image and paper sizes are approximate, Variations within the edition are possible and expected.
Vessels - photogravure print - The Weekly Edition
FAQ

Are the Photogravure prints matted

Matting is not included with the photogravure prints but can be provided at an extra cost.

What is the best way to display a photogravure print.

Most often work by printmakers is displayed utilizing a float frame technique available from most custom frame shops.

Will you make an edition of photogravure prints of my photograph.

I sometimes do this service please get in contact and we can talk about what you have in mind.

Can you custom plan a mentorship to my needs?

Your success is my goal and I have experience teaching many topics of photography, I am happy to make a program that fits your needs.
Shipping

Fast shipping

I usually ship print orders in 2-5 days, if you need a definite delivery time I can make sure it happens for you.

Order tracking

You will receive order shipment and tracking information via email after your order is placed letting you know about shipment and tracking numbers.

You can get in contact with Ray using the link below.
About Ray Bidegain

One Photographers Journey

For the last 22 years I have been lucky enough to spend my time working as a fine art photographer, and specifically working as a photographer who photographed using large format negatives and made platinum prints from the camera negatives.

The platinum period

Many of you have collected these platinum prints over the years and some of you have learned platinum printing from me along the way. I love the process and I have loved every minute of this period in my work. Platinum printing is an amazing and beautiful way to make photographs.

The Gravures

For the last five years I have started working on making photogravure prints, polymer plate photogravure prints, to be specific. I worked on it, decided I wanted to make a change and make a commitment to working as a printmaker making photogravure prints. You all know me as a person who likes handmade photography. Handmade objects are at the heart of my photographic journey and printmaking is all of that, and more.
The Cascabel Press Studio
My darkroom and printmaking studio
for the last 32 years I have worked in the cozy basement of my 110 year old home in Portland Oregon. Your fine prints are made here and are a product of my love of photography and art.
My backyard daylight studio
Where I make pictures
for the last several years I have been making my work in a small daylight studio in my backyard.